Or, more aptly, it's already here! I've gotten several "in the wild" pictures from readers who've found copies of Captive already in their local Barnes & Noble, but for those who aren't as lucky, Captive will be officially released into the world tomorrow! *throws confetti* *blows noise maker*
As I said in my acknowledgements for this book, writing this was a marathon. An exhausting one at that, and I'm so happy that it's finally here. A finished, pretty product that I will soon cry over when I see it on the shelves at Target hold in my hands.
So far, people have said some really nice things about it:
"A vulnerable but indomitable heroine and a hero who will haunt your dreams long after the last page. Raw, sexy and unexpectedly tender, Captive is a powerful, gripping story."—Kit Rocha, New York Times bestselling author

"A sexy, suspenseful, and deliciously forbidden love story!"—Laura Kaye, New York Times bestselling author
"Walsh entices readers with the lure of romance and a hint of mystery.  Sensuous detail…with intense heat and complex characters." —Publishers Weekly
"If captor/captive romances have you crying Stockholm syndrome, we don't blame you—but don't let the premise of Captive scare you off. Told from dual perspectives, nothing is as it seems—and everything is really freaking hot."—Women's Health

"Brighton Walsh has penned a beautiful love story that will pull at the reader's heartstrings."—Affaire de Coeur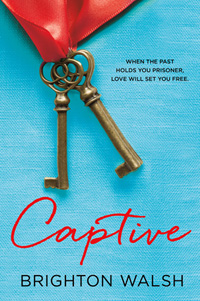 He's the most dangerous man she's ever met…and she's falling in love with him.
Madison Frost is desperate to escape her life. Daughter of a prominent businessman, she has everything a girl could ask for. Except for a family who's present in her life, and anyone to talk to outside the four walls of the prison she calls home. Madison dreams of one day leaving her life behind. She never thought being kidnapped is how it would happen.
Now she's being held captive by a man who's as frightening as he is sinfully gorgeous. Enormous, muscular, and filled with secrets, the man they call Ghost is an enigmatic mercenary, and Madison is trapped with him. She doesn't know who hired him or why, but the more time she spends at his mercy, the more she realizes he's not what he seems. Beneath his rough exterior lies an unexpected gentleness and a heart as broken and battered as her own.
But as Madison lets down her walls, Ghost holds tight to his, hiding secrets that could destroy everything.
For those who want a little more than some nice reviews and a summary, here's a little taste of Madison and Ghost…
***
His lips parted when his name left mine, his eyes dropping to my mouth, and it felt like he'd sucked the air right out of my lungs. Suddenly we were closer than we were a second ago, his shoulder flush against mine, and I let my eyes flutter closed the moment I saw him lean toward me.
In the back of my mind, my conscience was screaming at me, telling me this was a bad idea, I shouldn't be doing this—not with him. But my body had other ideas. My body wanted this, and right now, I was letting that part of me lead.
I met him in the middle, the first brush of our lips tentative. Only a whisper of flesh upon flesh, and when I didn't pull back, he leaned in again, pressing his mouth firmly to mine.
And his kiss . . . his kiss was an unexpected contradiction of the man I'd come to know. The softness of it surprised me, considering the rough edges of him. His lips were tentative, questioning in their exploration, and I answered every unasked question, moving with him without hesitation. When my tongue licked against the seam of his lips, he groaned, a deep sound resonating from his chest, and then his hands were on me. He cupped my face, pulling me closer to him as he opened his mouth to me, slid his tongue against mine.
It was everything I'd ever imagined and yet nothing I'd ever experienced. He was consuming me, every single one of my senses honing in on him. The scruffy whiskers of his beard were long enough that they didn't chafe so much as brush softly against me. His hands were rough, the tips of his fingers marred by calluses that ran across my cheeks, down my neck. He smelled like fresh soap and laundry detergent and the scent I'd grown accustomed to that was all him. Every time a groan echoed in his chest, I felt it against my own, and I could barely hold in a reply.
And his taste . . . God, the way he tasted. His tongue swept into my mouth, sliding against mine as he tilted my head so he could push the kiss deeper, harder.
My hands were still limp at my sides, but I wanted to touch him. I inched them over toward him as he continued to kiss and lick, his teeth scraping lightly against my bottom lip. With one hand, I gripped his arm, feeling his muscles flex with every movement. Reminding me exactly how much power he had behind his body, yet showing me how gentle he could be. With the other hand, I reached over until I found his leg, and as soon as my fingers brushed against his thigh, he stiffened.
But he didn't pull away.
***
Did that get your interest piqued? Well…I'll just leave these right here then… 🙂