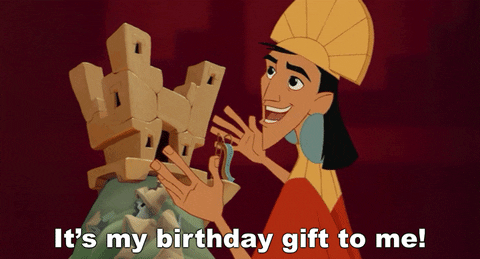 Now that I'm 42, I have the "Answer to the Ultimate Question of Life, the Universe, and Everything," right? Probably not, but in honor of my birthday, here are 42 things I've learned so far in life:
Tortilla chips have A LOT of calories.
Elementary school math is hard.
Helpful cats are (not) helpful.
Some people are just sorry.
Most people are awesome.
Professional jealousy is not only a waste of time but also detrimental to your career and general well-being.
I have privilege; I need to look for ways to help people who don't.
You're never too good to move chairs.
Parenting is hard
Parenting is rewarding.
I really need to stop procrastinating. (I say as I type this post the night before it's due)
No experience is wasted if you learn something from it—even a trip to the DMV.
Find home repair businesses over in Hiram or Paulding County rather than metro Atlanta. (My shout out to Ragsdale who's helped me with HVAC, plumbing, and recommending the person I needed to fix my gas fireplace)
Traveling is better than new furniture.
Experiences are more valuable than things.
I can run a marathon.
I shouldn't have run a marathon.
What seems horrible in the moment may turn out to be for the best in the end.
Treat every Christmas with your loved ones as if it might be the last. Take a moment to be grateful.
Life is too short for the cheap chocolate.
Surround yourself with good people. Be thankful if your family falls under that category.
It's harder to write good comedy than good tragedy.
But tragedy sells better and is taken more seriously.
Listen for the subtle nudges of the Holy Spirit.
There really is no time for love, Dr. Jones.
I have to exercise on a regular basis. Dammit.
I have to call my legislators; I'll have to call them no matter which party they represent.
A good story trumps beautiful writing every time.
As my age increases, my patience decreases.
If you need help, ask for it–no matter what.
Learn to say no.
But learn to say yes to the things that frighten you but are good for you.
Help those who come behind you. There's no need for everyone to suffer.
No, it's not fair that I have to limit myself to less than 1300 calories a day if I want to lose weight.
Persistence is the key to success. Never give up, never surrender!
As Ms. Kelley always said, believe none of what you hear and only half of what you see.
Get a housekeeper; life is short.
Hummus is good; a nice red blend is better.
As my Daddy once told me, never take more than you can carry.
As my Mom always says, my rights end where the rights of others begin—and vice-versa.
Other people don't use the word "heifer" correctly, and I can't teach them.
Always get up sexy.